IEEE CASS Rio Grande do Sul Talks 2022
Fridays, 1:30 PM (Brasilia Time, GMT-3)

The IEEE CASS Rio Grande do Sul Chapter and the Graduate Program on Microelectronics (PGMICRO) of the Universidade Federal do Rio Grande do Sul (UFRGS) are organizing since 2020, webinars available worldwide. A report about this action was published in the IEEE CASS Magazine, 4th quarter, 2020 [1]. 

All 2020, 2021 and 2022 past webinars were recorded and are available at the IEEE CASS Rio Grande do Sul YouTube channel.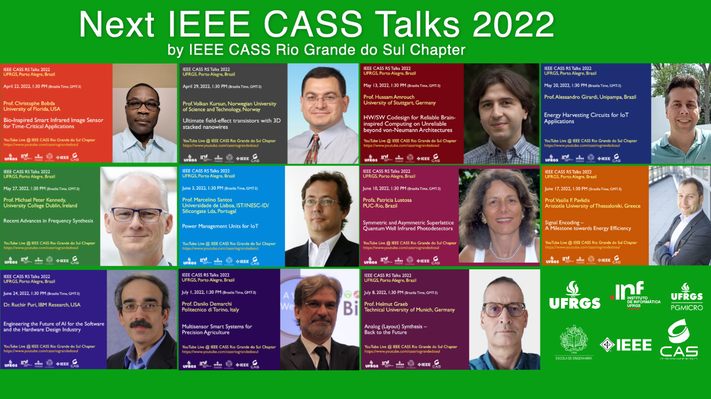 The following IEEE CASS Rio Grande do Sul webinars were already presented in 2022:
February 18, Jason Cong, UCLA, USA, Automated Synthesis and Architecture Optimization for Deep Learning Accelerator Designs        
February 25, Lilas Alrahis, New York University Abu Dhabi, UAE, Graph Neural Networks for Hardware Security  
March 11,  Salvador MIr, CNRS/Univ. Grenoble Alpes/TIMA, France, Advanced Built-In Test for AMS/RF Circuits: industrial Solutions and Future Directions        
March 18, Mircea Stan, University of  Virginia, USA, Active and Accelerated Recovery of Integrated Circuits        
March 25, Eduardo Gonçalves de Lima, UFPR, Brazil, Numerical Methods for Nonlinear RF Circuit Analysis        
April 1, Raphael Brum, UFRGS, Brazil, Emerging Memory Technologies: Overview and Applications

        

April 8, Jose Lipoveztky, CNEA / CONICET, Argentina, Viewing Ionizing Radiation with a CMOS Image Sensor 
The following talks are some of the next ones scheduled  for this year:
April 22, Christophe Bobda, University of Florida, USA, Bio-Inspired Smart Infrared Image Sensor for Time-Critical Applications

April 29, Volkan Kursun, NTNU, Norway, Ultimate field-effect transistors with 3D stacked nanowires

May 2-6, EMicro/SIM 2022

May 13, Hussam Amrouch, University of Stuttgart, Germany, HW/SW Codesign for Reliable Brain-inspired Computing on Unreliable beyond von-Neumann Architectures

May 20, Alessandro Girardi, Unipampa, Brazil, Energy Harvesting Circuits for IoT Applications

May 27, Peter Kennedy, University College Dublin, Ireland, Recent Advances in Frequency Synthesis

June 3, Marcelino Santos, INESC, Portugal, Power Management Units for IoT

June 10, Patricia Lustosa, PUCRJ, Brazil, Symmetric and Asymmetric Superlattice Quantum Well Infrared Photodetectors

June 17, Vasillis Pavlidis, The University of Manchester, Signal Encoding – A Milestone Towards Energy Efficiency

June 24, Ruhir Puri, IBM Research, USA, Engineering the Future of AI for the Software and the Hardware Design Industry

July 1,  Danilo Demarchi, Politecnico de Torino, Italy, Multisensor Smart Systems for Precision Agriculture

July 8, Helmut Graeb, Technical University of Munich, Germany, Analog (Layout) Synthesis – Back to the FutureSeveral other talks are also being scheduled till November 2022.
Please go to the CASS Rio Grande do Sul YouTube channel to see the titles and abstracts of talks, and to subscribe to the YouTube channel. 

It is also possible to find, in the YouTube channel, the recorded versions of past 2020, 2021 and 2022 Talks, as well other talks related to other events organized by the CASS Chapter. CASS Talks keep reaching a broad set of countries, all around the world.

Reference:
[1] How CASS-RS Transformed Local Face-to-Face Seminars into Global Webinars, Ricardo Reis, Raphael Brum and José Rodrigo Azambuja, IEEE CASS Magazine, Vol. 20, Issue 4, p. 78-87, 2020, DOI: 10.1109/MCAS.2020.3027224.

Ricardo Reis, Instituto de Informática - Universidade Federal do Rio Grande do Sul

___________________
South East Asia on Circuits and Systems 2021 (SEACAS 2021)
IEEE Circuits and Systems Society (CASS) Singapore Chapter has successfully organized a 2-day event on 28-29 March 2022 for South East Asia on Circuits and Systems 2021 (SEACAS 2021) and Student Hackathon. The SEACAS 2021/Student Hackathon event was postponed from the year 2021 to the year 2022 due to the COVID-19 pandemic. It took place at Nanyang Technological University, Singapore. 4 chapters from South East Asia (i.e., Singapore, Malaysia, Indonesia, and Vietnam) participated in the physical event, with 20 participants on the first day and 35 participants on the second day.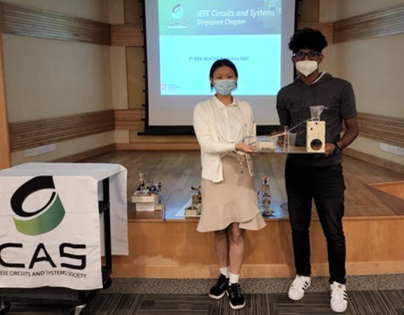 Left Photo: Best Project Awardees : Ms. Wang Jihan (Singapore) & Mr. Kavieraj A/L Anbualagan (Malaysia) with their Prototype
For the Student Hackathon, 17 students participated in the event. Six out of 17 students were from Malaysia, Indonesia, and Vietnam; each chapter had two student representatives. The remaining 11 students were from Singapore. To cultivate collaboration and culture exchanges, seven groups formed consisted of students from different countries. This years' Hackathon's theme was Sustainable Environment Development on Circuits and Systems. The students were first given a half-day tutorial briefing to learn how to program an Arduino board, and after that were tasked to make a prototype to solve an engineering problem related to the theme. The best project prize went to a team consisting of a Singapore student, Ms. Wang Jihan, and a Malaysia student, Mr. Kavieraj A/L Anbualagan.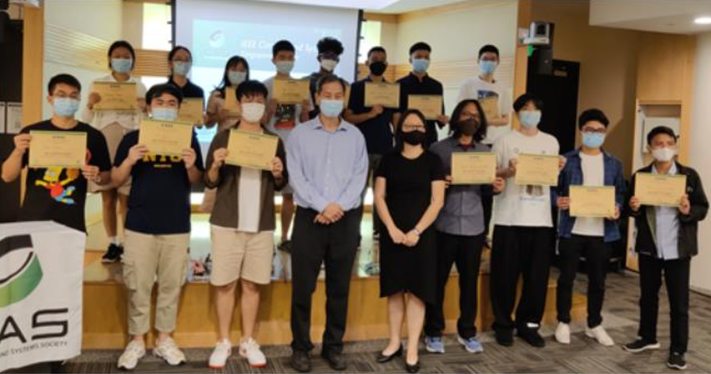 Photo Above: Guest-of-Honour: IEEE Fellow-Prof Lap-Pui Chau (front: left 4), Singapore Chapter Chair: Dr. Yi Wang (front: right 5), and all the student participant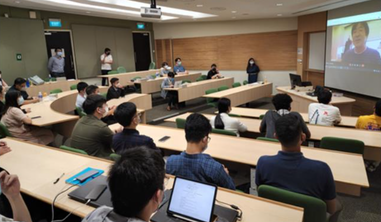 Right Photo: Closing remark was given by Prof Yoshifumi Nishio (via teleconferencing) to all the participants in SEACAS 2021/Student Hackathon
For the SEACAS 2021, there were eight presentations (two each from Singapore, Malaysia, Indonesia, and Vietnam). The speakers were Prof Bihan Wen (Singapore), Dr Anh-Tuan Do (Singapore), Prof Maryam Binti Mohd Isa (Malaysia), Prof Tutun Juhana (Indonesia), and Mr Manh-Hiep Dao (Vietnam). CASS SEA ambassador Prof. Fakhrul Zaman Rokhani gave the opening remark and finally, Prof Yoshifumi Nishio gave a closing remark (via teleconferencing) to all the SEACAS 2021/Student Hackathon participants.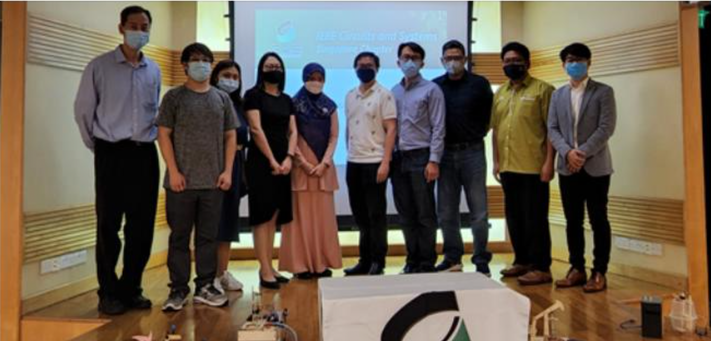 Photo Above: The organizers and South East Asia CASS representatives (from left to right): Prof Lap-Pui Chau, Mr Edward Ong, Dr Tong Ge, Dr Yi Wang, Prof Maryam Binti Mohd Isa, Dr Kwen-Siong Chong, Prof Fakhrul Zaman Rokhani, Prof Tutun Juhana, Prof Mohd Nazim Mohtar, and Mr Manh-Hiep Dao
Kwen-Siong Chong, Tong Ge, and Mohd Nazim Mohtar