SOCIETY NEWS

IEEE MGA GOLD Achievement Award 2009

Our CASS member Elvis (Pui-In) Mak won the 2009 IEEE MGA GOLD Achievement Award. This award is to recognize his distinguished contribution to GOLD.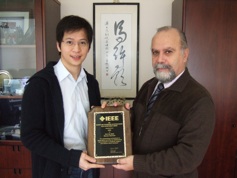 Photo (right): Dr Elvis Mak received the award plaque from Prof. Rui Martins, CASS VP-Region 10
In his capacity as CASS Board-of-Governor (BoG) member*, Elvis has many opportunities to participate in society's projects, network with volunteers around the globe, and execute new initiatives to enrich the values of CASS membership:

IEEE CAS Society Pre-Doctoral Scholarships – they are in place since 2010, aiming to financially assist young members in purchasing their study and recognize their works.

GOLD Session – GOLD/Technology Management Joint Session was held in ISCAS 2009 in Taipei. Experts around the globe shared their technology management skills. A PhD/GOLD Session and a WiCAS/GOLD Reception will be co-held in ISCAS 2010 in Paris. The theme of the Session is "Young Scholars to Become Successful Professors". Both experienced and young professors will highlight their practices in purchasing their careers.

Facebook Network – many IEEE CASS GOLD members have joined to share news and create friendships.

*all GOLD members of CASS are highly encouraged to run the annual CASS BoG election.

About the Award

This award is to recognize those substantial projects or achievements of a relatively short nature (one to three years) but have left an undeniable imprint on the fabric of Graduates of the Last Decade (GOLD) operations. 

The award will be based on a selection that recognizes individuals or teams involved with GOLD activities who are recognized for singular achievement in the development and completion of a project(s) or activity(ies) which are directed to the fulfillment of one or more of the GOLD goals and/or objectives. The accomplishments of the candidate should be of "significant performance" and should have made a distinguishing contribution to GOLD.

Up to six MGA GOLD Achievement Awards will be presented annually. For more information, please visit the award website.

Elvis Mak, University of Macau, Macau (PIMak@umac.mo)


Nomination for IEEE CASS Awards

The purpose of the annual IEEE Circuits & Systems Society Awards is to illuminate the accomplishments of CAS Society members and celebrate their dedication and contributions both within the field and to the CAS Society. Award recipients are nominated by their CASS peers in order to honor the service and contributions that further strengthen the CAS Society.

Take a moment to review the Society & Achievement Awards that are presented by the CAS Society. If you would like to nominate the accomplishments of a fellow Society member, complete and submit the corresponding nomination application listed below:

Nominations for the annual CASS awards are now being accepted. All nominations and reference letters must be submitted electronically by February 15, 2009, to cass-awards@ieee.org.

Details can be found in the award page of the society's website.