IEEE ISCAS 2017, Baltimore, USA, May 28-31, 2017
The IEEE International Symposium on Circuits and Systems (ISCAS) is the world's largest networking forum of leading researchers in the highly active fields of theory, design and implementation of circuits and systems. This meeting will focus on the connection from Dreams to Innovation with the aim of cultivating creative research-driven Ideas in Circuits and Systems as they transition to Innovations and fuel economic development. The 2017 symposium will be held in Baltimore, MD, USA, in May 28-31, 2017.
Special session proposals: October 28, 2016
Submission of 4-page papers: November 11, 2016
Live Demonstration proposals: November 11, 2016
Tutorials proposals: January 13, 2017
Notification of accepted papers: February 24, 2017 
Website: http://iscas2017.org/ 




IEEE BioCAS, Shanghai, China (October 2016)
The 12th IEEE BioCAS, to be held on Oct. 17-19 in downtown Shanghai, is a premier international forum for researchers and engineers to present their state-of-the-art multidisciplinary research and development activities at the frontiers of medicine, life sciences, and engineering. IEEE Transactions on Biomedical Circuits and Systems (TBioCAS, Impact Factor: 3.149) will publish a special issue for this conference. Expanded version of the best original papers will be invited for the special issue. BioCAS 2016 comprises invited talks on cutting-edge development, insightful tutorials in engineering and medicine, demonstrations, and technical sessions. The three-day program of BioCAS 2016 is multidisciplinary in topics including but not limited to:
Bio-inspired and Neuromorphic Circuits and Systems; Bio-medical Sensors and Interfacing Circuits; Biomedical Imaging Technologies & Image Processing; Electronics for Brain Science; Genomics and Systems Biology; Implantable and Wearable Devices and Systems; Internet of Things (IoT) for Healthcare; Innovative Circuits for Medical Applications; Lab-on-Chip/BioMEMS/Point-of care Devices; Medical Information Systems and Bioinformatics; Rehabilitation and Assistive Technologies; Signal Processing Systems for Bio-medical Applications; Therapeutic Devices and Closed-loop Systems; Wireless and Energy Harvesting/Scavenging Technology
Important Dates:
Special Session Proposal Due: June 5, 2016
Paper Submission Due: June 15, 2016
Demonstration Proposal Due: July 31, 2016
Author Notification Date: August 31, 2016
Author Registration Date: September 15, 2016
Conference Dates: October 17-19, 2016
Post Conference Workshop Dates: October 20-21, 2016
Website: http://biocas2016.org/home.html
IEEE APCCAS 2016, Jeju, Korea (October 2016)
The IEEE APCCAS 2016, the 13th of the biennial Asia Pacific Conference on Circuits and Systems, will be held in Korea at the RAMADA PLAZA JEJU Hotel, Jeju Island. Jeju Island is the biggest island and a most popular tourist resort in Korea. With its natural beauty and unique island culture, Jeju offers cutting-edge convention facilities, sufficient infrastructure, and gifted eco-friendly environment. The APCCAS is a major international forum established by the IEEE Circuits and Systems Society for researchers to exchange their latest findings in circuits and systems.
Key dates:
Submission of Regular Papers and Special Session Papers : April 29, 2016
Submission of Live Demo Proposals : April 29, 2016
Notification of Paper Acceptance : July 22, 2016
Submission of Final Papers : August 26, 2016
Submission of Special Sessions Proposals : April 5, 2016
Notification of Acceptance of Special Sessions Proposals : April 8, 2016
Submission of Tutorial Proposals : June 17, 2016
Notification of Acceptance of Tutorial Proposals : July 15, 2016
Author & Early-Bird Registration : August 26, 2016
Conference website: http://www.apccas2016.org/
ISOCC 2016, Jeju, Korea (October 2016)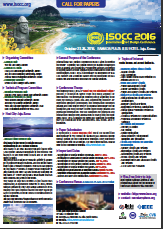 International SoC Design Conference (ISOCC) aims at providing the world's premier SoC design forum for leading researchers from academia and industries. Prospective authors are invited to submit papers of their original works emphasizing their own contributions. ISOCC 2016 is technically co-sponsored by IEEE CAS Society and accepted papers will be published on IEEE Xplore. We also welcome proposals for special sessions. The theme of ISOCC 2016 is "Smart SoC for Intelligent Things" Recent IT industries suffer from the huge amount of information. The information requires lots of attention to be used for human, robot, bio, and automotive industry. By providing efficient technology, the information becomes reliable and trust worthy. We try to propose technology for the industries and find the way to give them more reliable and profitable information. The SoC solutions for interface and interaction require new approaches to march into the next level. ISOCC 2016 is looking for novel SoC solutions to provide ways to cooperate with automotive, bio, robot, and IT industries.
Key dates are:
- Submission of special proposals: June 17, 2016
- Notification of acceptance of special session proposals: July 1, 2016
- Submission of regular session full papers: July 15, 2016
- Submission of chip design contest papers: August 12, 2016
- Submission of special session full papers: July 15, 2016
- Notification of acceptance (for all submitted papers): August 29, 2016
- Submission of final papers (for all accepted papers): September 12, 2016
- Author and early-bird registration: September 12, 2016
Website: http://www.isocc.org