IEEE Array Cafe Podcast - Episode 1 Released

IEEE Array Cafe is a podcast (sponsored by the IEEE Circuits and Systems Society and the IEEE Sensors Council) about everything engineering - science, technology, and professional issues.
IEEE Array Cafe - Episode 1: Dr. Amara Amara and the Coronavirus
Episode Summary
On our first episode, hear hosts Hadi Heidari, Hamida Hallil, Nicole Weckman, Bruce Hecht, and Aisha Yousuf interview Dr. Amara Amara, President of the IEEE Circuits and Systems Society. In this episode, Dr. Amara discusses his career, the coronavirus, and much more.
You can listen to Episode 1 on Simplecast or on Spotify.
Episode Notes
The Array Cafe podcast is brought to you with generous support from the IEEE Sensors Council and the IEEE Circuits and Systems Society.
Our hosts are Hadi Heidari, Hamida Hallil, Nicole Weckman, Bruce Hecht, and Aisha Yousuf.
Array Cafe is produced by Joseph Fridman. Our theme music is by Stephen LaRosa of Wonder Boy Audio. Our logo is by Pice Wilf, and was produced in a competition on 99Designs. 
IEEE and CAS Society Memberships During COVID-19 Outbreak

As many imagine, the COVID-19 outbreak impacts the IEEE membership. As shown in Fig. 1, negative impact on the IEEE Society membership started to be visible from April 2020. According to the September 2020 Issue of the IEEE MD Monthly, the Year-Over-Year change (from Sept 2019 to Sept 2020) of the whole IEEE membership is -25,349 (in other words -6.5%). The MD report also says that the deficit widened from -5.9% YOY in August.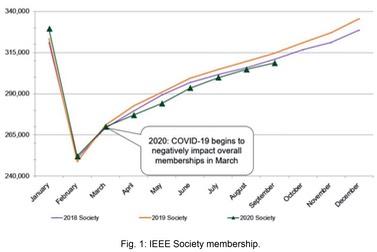 During the same period (from Sept 2019 to Sept 2020), some societies gained their memberships. The CAS Society gained 477 members (incl. affiliates) during those 12 months, which is +4.8% from Sept 2019, and this rate is the 4th largest among the 39 societies.
Of course, the COVID-19 outbreak had a negative influence on the CASS activities in various aspects. But, at the same time, some of the ideas and the efforts by the CASS volunteers worked well to gain the membership.
The CAS Society offers several online seminars including 3 series of the CASS Virtual Distinguished Lecturer Webinars. Those online seminars might attract students more than usual, because many universities are closed because of the COVID-19 outbreak. 
Virtual or hybrid format of CASS-sponsored conferences might work well to retain the members. Because the organizers offered free or discounted registration to our members.
Outreach activities including the CASS African Webinar Series on Fundamentals in CAS and Emerging Technologies, which was targeting university students in African universities, and the cosponsorship to Techfest in India, which was the Asia's largest science and technology festival with a footfall of 175,000+ people, increased the society's impact in those regions.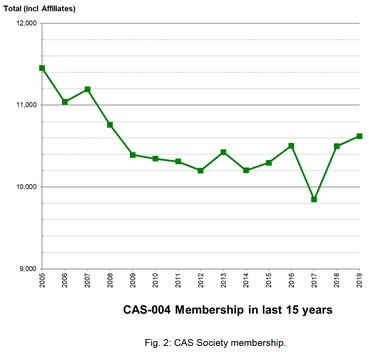 Timely events such as the CASS COVID-19 Entrepreneurs Competition and the CASS COVID-19 Special Student Design Competition, encouraged our young members combating with the COVID-19 outbreak, and virtual format of the CAS Industry Forums (CASIF) and Seasonal Schools of CAS (SSCAS) offered continuous learning opportunity for industry members and learners of all ages.
The total of the CASS membership (incl. affiliates) is 10,378 at the end of Sept 2020. If the CAS Society would keep the averaged increase during the last 3 months of the year, we would expect more than 11,000 CASS membership at the end of 2020, which is the first time since 2007 (see Fig. 2).
On behalf of the CAS Executive Committee, I would like to thank all the CASS volunteers who devote themselves in the CASS activities during this hard period. We are looking forward to meet all of you physically in near future. Stay safe and keep healthy!!

Yoshifumi Nishio, Tokushima University, Japan
VP (Regional Activities and Membership), IEEE CAS Society
_________________________
Call for Awards Nominations 2021
This message is to notify you that nominations for the annual awards of the IEEE Circuits and Systems Society are now being accepted. Nominations should now be submitted online by 15 February 2021.
Please visit our Awards page where you will find descriptions of the awards being given in 2021.
Online submissions: (Note: Self-nominations are not allowed for any award other than the Student Travel Award, Chapter of the Year Awards, and the Pre-Doctoral Grants)
It is very desirable that members who have contributed significantly to the various CAS Society activities highlighted by our awards be recognized. This is our way of showing our appreciation for their accomplishments.
Questions regarding awards and nominations should be sent to the CAS Society Administrator at manager@ieee-cas.org.
Thank you for your cooperation and effort.

Yong Lian, 2021 Awards Committee Chair, IEEE CAS Society


____________________________________
IEEE CAS Society Virtual Distinguished Lecturer Webinars

We are extremely excited to announce that we will be continuing the IEEE CAS Society Virtual Distinguished Lecturer Program through 2021.  This initiative has allowed us to continue providing CASS members with our respected and reputable Distinguished Lecturer program, while also increasing CASS visibility around the world, as anyone can attend these series.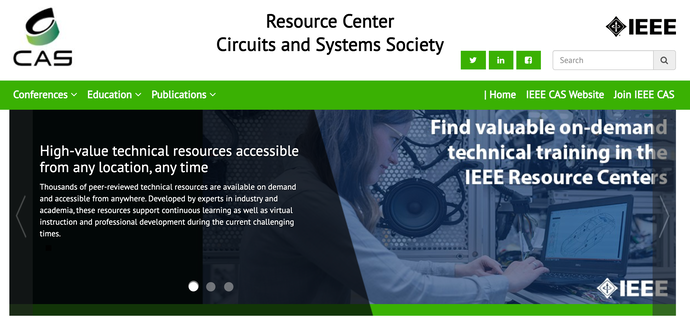 We are thrilled to offer you the opportunity to access all of our past VDL talks, free of charge, on the IEEE CASS Resource Center.
We encourage you to visit this page regularly for updates on VDL Series IV, coming in 2021. 
____________________________________
CALL FOR PROPOSALS: 2021 Seasonal Schools in Circuits and Systems (SSCAS)


Each year, the IEEE Circuits and Systems Society (CASS) organizes several Seasonal Schools in different countries across all regions. These schools bring the latest happenings in the world of circuits and systems to our members.  The materials used in the school are published as e-books in the CASS Resource Center, which can be freely downloaded by CASS members. Some of the recent e-books are listed below:
Selected Topics in RF, Analog and Mixed Signal Circuits and Systems
Circuits and Systems for the Internet of Things
Selected Topics in Power, RF, and Mixed-Signal ICs
Power Management for Internet of Everything
Enabling Technologies for the Internet of Things: Wireless Circuits, Systems and Networks
Low Power Circuit Design Using Advanced CMOS Technology
Circuits and Systems for Biomedical Applications
Circuits and Systems for Wearable Technologies
From Artificial Intelligence to Brain Intelligence
Heterogeneous Cyber Physical Systems of Systems 
Selected Topics in Biomedical Circuits and Systems
Advanced Tutorial on Analog Circuit Design
Advanced Tutorial on Radio Frequency Circuit Design
SoC Designs for Bio-Medical Applications
Smart Sensors and Devices
Proposal Request
We are soliciting proposals for the Seasonal Schools in Circuits and Systems (SSCAS) in 2021. The targeted audiences are research students, early-stage researchers, and practitioners with a background in circuits and systems. CAS Emerging topics and topics that complement those in published e-books will be prioritized.
A maximum of 4 SSCAS proposals could be selected. CASS will provide funding support up to $5,000 USD for each accepted proposal.
The proposal should be prepared following the guidelines below and submitted in PDF format by 15 January 2021 via email to manager@ieee-cas.org.  The Seasonal Schools should be planned for the period 16 February 2021 to 15 December 2021. Any inquiries should be sent to manager@ieee-cas.org.
Proposal Preparation Guidelines
Each proposal should contain the following information:
The title, a description of the seasonal school technical theme, and a Table of Content for the e-book
A letter of endorsement from one or more local CASS Chapters
The list of key organizers and their qualifications
Description of the proposed venue, including its facilities to host the event
Description of the benefits of the seasonal school to the CASS membership:

How will it benefit the research students, early-stage researchers, practitioners, and the CAS Society in general?
How will it benefit the corresponding region?
Special activities or initiatives planned to enhance the schools, impact on the region, and on the society should also be described

Plan for co-sponsorship or travel grant from local industry or organization
Proposed dates
Registration fees (for students, researchers, and practitioners), including the discount for CAS Society members
Detailed budget breakdown of the event that shows revenues and costs. Note the following:

A CASS contribution of at most $5,000 USD can be included in the budget
The participation of local chapters in the organization should be highlighted, including their involvement in the budget, etc.
CASS will not assume liability for any deficit
Information about lodging costs for the students, if any
Timeline for Seasonal School Proposals and Acceptances
First Deadline of Proposals: 15 January 2021
First Announcement of Results: 15 February 2021
Second Call for Proposals: 30 April 2021
Second Deadline of Proposals: 31 May 2021
Second Announcement of Results: 30 June 2021
Events: From 16 February 2021 to 15 December 2021
Yen-Kuang Chen, VP (Technical Activities), IEEE CASS
Yoshifumi Nishio, VP (Regional Activities and Membership), IEEE CASS