The IEEE International Symposium on Circuits and Systems (ISCAS) is the world's premier networking forum for leading researchers in the highly active fields of theory, design and implementation of circuits and systems. ISCAS is the flagship conference of the IEEE Circuits and Systems Society. ISCAS 2019 will be held in Sapporo, Hokkaido, Japan from May 26 to 29, 2019. ISCAS 2019 will have a special focus on Circuits and Systems for Sustainable Society in Harmony with Nature, and seeks to address multidisciplinary challenges in circuits and systems. The symposium will include oral and poster sessions, live demonstrations, tutorials given by experts on state-of-the-art topics, and special sessions, with the aim of complementing the regular program with emerging topics of particular interest to the circuits and systems community.
To implement the above vision, this year's meeting will highlight the following innovation themes:
Society 5.0 - Human-centric Society

Sustainable Computing and Systems

Energy-aware Systems and Services

Disaster Prevention and Mitigation

Smart Systems for Automotive

Cyber-Physical Systems

AI, IoT and Big Data Processing
ISOCC 2019, Jeju, South Korea (October 2019)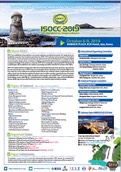 ISOCC has established a long tradition as an annual conference providing the premier SoC design forum for worldwide researchers from academia and industries. ISOCC 2019 welcomes technical papers in the field of semiconductor circuits and systems presenting new advanced concept and developments in analog and digital circuit and system design, theory, simulation, modeling, experimental implementations and experiences, and emerging technologies in the system-on-a-chip area. ISOCC 2019 is technically co-sponsored by IEEE CAS Society. All accepted papers will be published in the conference proceedings and will be submitted for inclusion in IEEE Xplore. 
Important Dates:
Submission of Regular Session Full Papers: June 2, 2019 

Submission of Special Session and Tutorial Proposals: June 2, 2019 

Notification of Acceptance of Special Session and Tutorial Proposal: June 17, 2019 

Submission of Special Session Full Papers: July 1, 2019 • Notification of Acceptance: August 17, 2019

Author & Early Registration: August 30, 2019

Submission of Final Papers (for all accepted papers): September 10, 2019

On-site Registration: October 6-8, 2019
Website: http://www.isocc.org
The topics include, but are not limited to:
Analog/Mixed Signal Circuits & Systems

Beyond CMOS: Nano & Hybrid Systems

Biomedical Circuits & Systems

Communications Circuits & Systems

Digital Circuits & Systems

Digital Signal Processing

Neural Networks & Neuromorphic Engineering

Nonlinear Systems & Circuit Theory

Power and Energy Circuits & Systems

Sensory Circuits & Systems

Visual Communications & Multimedia Signal Processing

Education in Circuits & Systems
Important Dates:
Special Session proposals: Oct 5, 2018

Papers submission: Oct 15, 2018

Live Demo proposals: Nov 19, 2018

Tutorial proposals: Dec 17, 2018

Notification of acceptance: Jan 14, 2019

Final submission deadline: Feb 18, 2019
Symposium Website: https://www.iscas2019.org/
___________________
RFIC 2019, Boston, USA (Jun 2019)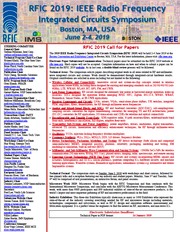 The RFIC symposium is the premier IEEE conference in the world focused on RFIC technology. The conference starts on Sunday, 2 June 2019 with workshops and a new tutorial event, the Technical Lecture, followed by two Plenary talks and a Reception embedded with the RFIC Symposium Showcase, which will include poster presentations and demos of selected and award winning papers from both industry and academia authors. Monday, 3 June and Tuesday, 4 June 2019 will be comprised of presentations of contributed papers and special lunch-time panel sessions.
Technical Areas: The symposium solicits papers describing original work in all areas related to RF and millimeter-wave integrated circuits and systems. Work should be demonstrated through integrated-circuit hardware results. Original contributions are solicited in areas including but not limited to the following: Wireless Cellular and Connectivity; Low Power Transceivers; Receiver Components and Circuits; Analog and Mixed-Signal Blocks and SOCs; Reconfigurable and Tunable Front-Ends; Transmitter Sub-Systems and Power Amplifiers; Oscillators; Frequency Synthesis; Device Technologies, Packaging, Modeling, and Testing; Millimeter- and Sub-Millimeter Wave Communication and Sensing Systems; Emerging Circuit Technologies (NEW This Year). 
Electronic Submission Deadlines for Technical Paper in PDF format: 14 January 2019
Final Manuscripts for the Digest and USB: 22 March 2019
All submissions must be made at rfic-ieee.org in pdf form.
NEWCAS 2019, MUNICH, GERMANY (JUNE 2019)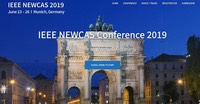 The 17th IEEE International NEWCAS Conference will be held in Munich, Germany, the capital of Bavaria, the heart of the Information & Communication Technologies industry of the country, on 23-36 June 2019 at Fraunhofer EMFT and Hilton Munich City. The program of the conference is tailored to reflect the wide spectrum of topics, the research interests and industrial practice shared among researchers and practitioners in the field of circuits, systems, and microsystems. The conference offers the attendees with a unique forum for the exchange of ideas and results, excellent keynotes and tutorials.
REGULAR PAPER SUBMISSION DEADLINE IS APPROACHING!
Full paper submission: 10 February 2019
Notification of acceptance: 7 April 2019
Camera-ready manuscript: 21 April 2019
The top-ranked conference papers will be invited for an extended journal version, to be published in a special issue in IEEE TCAS-I. We invite authors to submit very high-quality contributions to get a chance to be part of the IEEE TCAS-I special issue for NEWCAS 2019 in this prestigious and high-impact journal. After the notification of acceptance and if your paper is among the selected, the Technical Program Chairs will get in touch with the authors for the next steps.
See website for details.
_______________________
BioCAS 2019, Nara, Japan (Oct 2019)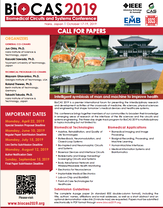 BioCAS 2019 is a premier international forum for presenting the interdisciplinary research and development activities at the crossroads of medicine, life sciences, physical sciences and engineering that shape tomorrow's medical devices and healthcare systems. This conference brings together members of our communities to broaden their knowledge in emerging areas of research at the interface of the life sciences and the circuits and systems engineering. 
Submission Guidelines
The complete 4-page paper (in standard IEEE double-column format), including the title, authors' names, affiliations and e-mail addresses, as well as a short abstract and an optional demonstration video link (3 minute max) are requested. Papers must be submitted electronically in PDF format through www.biocas2019.org.
Important Dates:
Monday, April 22, 2019: 

Special Session Proposal Deadline

Monday, June 10, 2019: 

Regular Paper Submission Deadline

Monday, July 15, 2019: 

Live Demo Submission Deadline

Monday, August 12, 2019: 

Author Notification Date

Sunday, September 15, 2019: 

Final Paper Submission Deadline
Website: www.biocas2019.org
_______________________
VLSI-SoC 2019, Cusco, Peru (Oct 2019)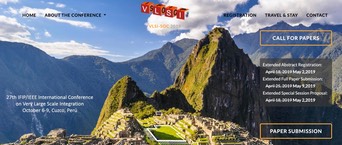 VLSI-SoC 2019 is the 27th in a series of international conferences sponsored by IFIP TC 10 Working Group 10.5, IEEE CEDA, IEEE CASS, and ACM SIGDA which explores the state-of-the-art in the areas that surround Very Large Scale Integration (VLSI) and System-on-Chip (SoC). Previous conferences have taken place in Edinburgh, Trondheim, Tokyo, Vancouver, Munich, Grenoble, Gramado, Lisbon, Montpellier, Darmstadt, Perth, Nice, Atlanta, Rhodes, Florianópolis, Madrid, Hong Kong, Santa Cruz, Istanbul, Playa del Carmen, Daejeon, Tallinn, Abu Dhabi, and Verona. The purpose of VLSI-SoC is to provide a forum to exchange ideas and showcase research as well industrial results in EDA, design methodology, test, design, verification, devices, process, systems issues and application domains of VLSI and SoC.
Topics of interest include but are not limited to: 
ICECS 2019, GENOVA, ITALY (NOVEMBER 2019)

IEEE ICECS 2019, the flagship conference for the Region 8 of the IEEE Circuits and Systems Society, will be held in Genova, Italy from November 27 to 29, 2019. 
The conference will include oral and poster sessions, tutorials given by experts on state-of-the-art topics, and special sessions, with the aim of complementing the regular program with emerging topics of particular interest to the circuits and systems community. IEEE ICECS 2019 will also involve keynotes as an opportunity to learn from experts sharing their experience and knowledge. Special activities for young professionals and women in circuits and systems will be also presented at the conference.
Deadlines:
Special session deadline: May 31
Tutorial deadline: June 30
Submission deadline: June 30
Notification of acceptance: Sept. 10
See conference website for details. 
Analog, mixed-signal, and sensor architectures

3-D Integration

Physical Design

SoC Design for variability, reliability, fault tolerance and test

New devices, MEMS, and Microsystems

Digital Signal Processing and Image Processing SoC Design

Prototyping, validation, verification, modeling, and simulation

Embedded Systems and Processors, Hardware/Software Codesign

Processor architectures and multicore SoCs

Logic and high-level synthesis

Low-power and thermal-aware design

Reconfigurable SoC systems for energy and reliability

Dependable SoCs

SoC in the Dark Silicon Era

Green computing systems

Low energy secure systems

Circuits and systems for microsensing applications
Paper Submission:
Papers should present original research and industrial results not published or submitted for publication in other forums. Electronic submission in PDF format to the VLSI-SOC 2019 website is required. The proceedings will be published by IEEE and will be made available through IEEE Xplore. A selection of the conference best papers will be invited to submit an extended version to be included as chapters of a book to be published by Springer.
Key Dates:
Abstract Submission: 2 May 2019

Special Session Proposal: 9 May 2019 (extended and final deadline)

Paper Submission: 2 May 2019

Notification of Acceptance: 25 June 2019

Camera-ready: 10 July 2019
See the conference webpage for details.
___________________________
APCCAS 2019, Bangkok, Thailand (Dec 2019)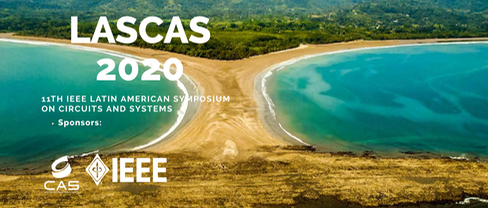 The APCCAS is a major international forum established by the IEEE Circuits and Systems Society for researchers, scientists, educators, students and engineers to exchange their latest findings in circuits and systems. IEEE APCCAS 2019, the 15th of the annual Asia Pacific Conference on Circuits and Systems, will be held in Bangkok, Thailand during November 25-28,  2019.
Important Dates:
Submission Deadline: July 31, 2019

Notification of Acceptance: September 30, 2019
Conference website: http://www.apccas2019.org/
___________________________
LASCAS 2020, San José, Costa Rica (February 2020)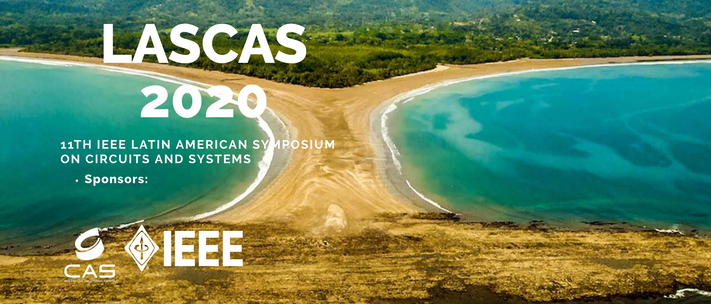 LASCAS is the flagship conference of the IEEE Circuits and Systems Society in Latin America. Since its first edition in 2010, LASCAS provides a high-quality exchange and networking forum for researchers, professionals, and students, gathering an international audience with experts from all over the world. This event is a space where the CAS community can present new concepts and innovative approaches, learn about new trends and solutions, and receive feedback from specialists in diverse fields.
The 11th edition will take place in San José, the capital of Costa Rica. The city is located in the central region of the country, a strategic place nearby the Juan Santamaría International Airport (SJO), where major government institutions, public universities, and industry converge in a metropolitan area with over two million people. The west urban area of San José hosts a vibrant business environment, encompassing the operation of more than 200 high-tech companies in fields such as electronics, software, and biomedical applications.

Important Dates:
Special session proposal: September 12, 2019.

Paper submission: September 12, 2019.

Notification of acceptance: November 7, 2019.

Camera-ready papers: November 21, 2019.November 21, 2019.
Conference website: http://www.ie.tec.ac.cr/lascas2020/