The IEEE International Symposium on Circuits and Systems (ISCAS) is the world's premier networking forum for leading researchers in the highly active fields of theory, design and implementation of circuits and systems. ISCAS is the flagship conference of the IEEE Circuits and Systems Society. ISCAS 2019 will be held in Sapporo, Hokkaido, Japan from May 26 to 29, 2019. ISCAS 2019 will have a special focus on Circuits and Systems for Sustainable Society in Harmony with Nature, and seeks to address multidisciplinary challenges in circuits and systems. The symposium will include oral and poster sessions, live demonstrations, tutorials given by experts on state-of-the-art topics, and special sessions, with the aim of complementing the regular program with emerging topics of particular interest to the circuits and systems community.
LASCAS 2019, Armenia, Colombia (February 2019)
LASCAS is the Flagship Conference of IEEE's Circuits and Systems Society in Latin America. Since its inception and first edition in 2010, LASCAS aims at presenting a high-quality forum for researchers and graduate students to present the advances of their work, amidst an international audience with experts from all over the world.

This 9th edition will take place in the port of Puerto Vallarta, a quaint city with many an interesting anecdote to tell, a gamut of restaurants to choose from, and spectacular views and breath-taking sunsets on the Pacific horizon. 
Important Dates:
Tutorial proposals: October 6, 2017

Special Session Proposal: October 6, 2017

Paper Submission: October 20, 2017 NOW November 3, 2017

Notification of acceptace: November 21, 2017 NOW December 1st, 2017

Camera-ready: December 20, 2017
To implement the above vision, this year's meeting will highlight the following innovation themes:
Society 5.0 - Human-centric Society

Sustainable Computing and Systems

Energy-aware Systems and Services

Disaster Prevention and Mitigation

Smart Systems for Automotive

Cyber-Physical Systems

AI, IoT and Big Data Processing
The topics include, but are not limited to:
Analog/Mixed Signal Circuits & Systems

Beyond CMOS: Nano & Hybrid Systems

Biomedical Circuits & Systems

Communications Circuits & Systems

Digital Circuits & Systems

Digital Signal Processing

Neural Networks & Neuromorphic Engineering

Nonlinear Systems & Circuit Theory

Power and Energy Circuits & Systems

Sensory Circuits & Systems

Visual Communications & Multimedia Signal Processing

Education in Circuits & Systems
Important Dates:
Special Session proposals: Oct 5, 2018

Papers submission: Oct 15, 2018

Live Demo proposals: Nov 19, 2018

Tutorial proposals: Dec 17, 2018

Notification of acceptance: Jan 14, 2019

Final submission deadline: Feb 18, 2019
Symposium Website: https://www.iscas2019.org/
_________________
RFIC 2019, Boston, USA (Jun 2019)
NEWCAS 2019, MUNICH, GERMANY (JUN 2019) 
The 17th IEEE International NEWCAS Conference will be held in Munich, Germany, the capital of Bavaria, the heart of the Information & Communication Technologies industry of the country, on 23-36 June 2019 at Fraunhofer EMFT and Hilton Munich City. The program of the conference is tailored to reflect the wide spectrum of topics, the research interests and industrial practice shared among researchers and practitioners in the field of circuits, systems, and microsystems. The conference offers the attendees with a unique forum for the exchange of ideas and results, excellent keynotes and tutorials.
REGULAR PAPER SUBMISSION DEADLINE IS APPROACHING!
Full paper submission: 10 February 2019
Notification of acceptance: 7 April 2019
Camera-ready manuscript: 21 April 2019
Submit your full paper here: https://www.epapers.org/newcas2019/ESR/login.php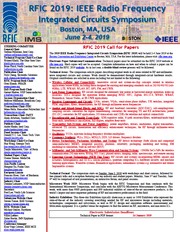 The 2019 IEEE Radio Frequency Integrated Circuits Symposium (RFIC 2019) will be held 2-4 June 2019 at the Boston Convention and Exhibition Center in Boston, MA, USA. For the latest information, please visit: rfic-ieee.org.
Electronic Paper Submission/Communication: Technical papers must be submitted via the RFIC 2019 website at rfic-ieee.org. Hard copies will not be accepted. Complete information on how and when to submit a paper can be found on the RFIC 2019 website. As in last year, a double-blind review process will be followed.
Technical Areas: The symposium solicits papers describing original work in all areas related to RF and millimeter-wave integrated circuits and systems. Work should be demonstrated through integrated-circuit hardware results. Original contributions are solicited in areas including but not limited to the following: Wireless Cellular and Connectivity; Low Power Transceivers; Receiver Components and Circuits; Analog and Mixed-Signal Blocks and SOCs; Reconfigurable and Tunable Front-Ends; Transmitter Sub-Systems and Power Amplifiers; Oscillators; Frequency Synthesis; Device Technologies, Packaging, Modeling, and Testing; Millimeter- and Sub-Millimeter Wave Communication and Sensing Systems; Emerging Circuit Technologies (NEW This Year). 
Electronic Submission Deadlines for Technical Paper in PDF format: 14 January 2019
Final Manuscripts for the Digest and USB: 22 March 2019
All submissions must be made at rfic-ieee.org in pdf form.