SSCS + CASS Membership: SSCS Members Can Join CASS for Just $5
the NEW IEEE Circuits and Systems Society Resource Center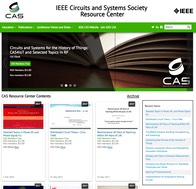 The CASS Resource Center is a one-stop-shop for valuable content relevant to the IEEE CASS Field of Interest. The following are now available on the Resource Center:
Keynote Presentations from CASS Events

Conference Videos and Slides

eBooks
These materials are free for all CAS Society Members and a minimal fee for IEEE members and non-members.
VISIT THE RESOURCE CENTER  NOW!!
As members of the IEEE Solid State Circuits Society (SSCS), you may now add the Circuits and Systems Society (CASS) annual membership for just $5!
More than 20% of SSCS members are now CASS members. 
If you have not yet renewed your 2018 membership, join CASS for just $5 by entering promotion code SSCXCAS2018 at checkout. If you have already renewed for 2018, sign in with your IEEE account and your discounted CASS membership will be present in your cart.
For more details, please see http://ieee-cas.org/add-ieee-solid-state-circuits-society-ssc-annual-membership-for-us5.
2017-2018 CASS Student Design Competition Finalists
Finalists of the CASS Student Design Competition will compete at the final competition that will take place during ISCAS 2018, in Florence, Italy from 27-30 May 2018.
Region 1-7
Region 8
A Versatile Electronic Interface For Soil Quality Monitoring — Karkotis Andreas, Zacharia Angelos, Papapolydorou Panagiotis, Konstantinidis Georgios, Tommy Eftychiou (Cyprus)
Region 9
Fighting Back Zika, Chikungunya and Dengue: Detection Of Mosquito-Breeding Habitats Using An Unmanned Aerial Vehicle — G. S. Andrade, T. M. Dias, V. C. Alves, H. M. Alves Junior, L. F. Pinheiro, P. M. C. Silva, R. S. G. Pontes, B. P. Silva, I. B. O. de Macedo, G. M. Araujo and T. M. Prego (Rio de Janeiro, Brazil)

A Gesture Detection Glove For Human-Computer Interaction — Felipe A. Quirino, Marcelo Romanssini, Rafael R. Dorneles, Enzo H. Weber, and Alessandro Girardi (Rio Grande do Sul, Brazil)
Region 10
The Real-Time Monitoring Of Car Driver's Fatigue System — Yu-Jin Lin, Chen-Wei Chuang, Chun-Yueh Yen, Sheng-Hsin Huang, Yen-Ching Wang, Hsiang-Fan Wang, and Shuenn-Yuh Lee (Tainan, Taiwan)