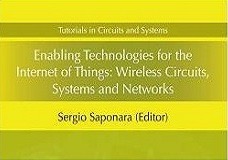 New e-Books in CAS Resource Center 
The IEEE CAS Resource Center has released two new e-books:
Enabling Technologies for the Internet of Things: Wireless Circuits, Systems and Networks by 

Sergio Saponara (editor)

Power Management for Internet of Everything by 

Mathieu Coustans and Catherine Dehollain (editors)
Click here to see the contents. It's free for CASS members!
___________________________
IEEE CAS Distinguished Lecture by Prof. Ashraf Salem in Telecom ParisTech, France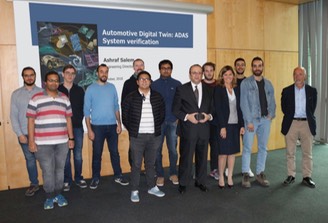 IEEE Circuits and Systems Society (CAS) France Section invited Prof. Ashraf Salem, Engineering Director in Mentor A Siemens Business to deliver an IEEE CAS Distinguished Lecture on 2 October 2018. The lecture was held at Telecom ParisTech, Paris, France. 
In his lecture, "Automotive Digital Twin: ADAS System verification", Prof. Salem mentioned that Automotive Original Equipment Manufacturers (OEMs) will take more control of Electronic Control Unit (ECU) hardware/software architecture definition and exploration. This is due to the rise of new technologies in ADAS and autonomous vehicles. He explained that the increasing number of cars with ECUs containing tens of processors, and the need to accelerate the simulation of thousands of driving scenarios and design parameters to ensure safety and reliability in autonomous driving has expanded the use of hardware emulation in the loop based on its capacity and functional verification merits.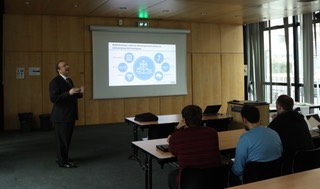 In his presentation, he showed an integrated heterogeneous system of systems framework to simulate and verify multiple ECUs. The framework includes ADAS scenarios simulator, Mechanical simulator, virtual platforms and RTL Designs. The distinguished lecture attracted more than 15 faculty members and graduate students in Telecom ParisTech. There were many questions and fruitful discussions with the audience.
Before and after his lecture, Prof. Salem visited Telecom ParisTech and discussed with researchers from laboratory on information processing and communication (LTCI).
Patricia Desgreys, IEEE Chapter Chair of France