IEEE CASS Macau Chapter and Wuhan Joint Chapter Outreach Online Seminar

IEEE CASS Macau Chapter took an outreach to Wuhan Joint Chapter on 10 December 2020. The outreach activity is held virtually online due to the pandemic of Covid-19. During the activity, technical lectures are presented by nine professors from the University of Macau, Macau, China, and Huazhong University of Science and Technology, Wuhan, China.
The outreach started with talks from five professors at the State Key Laboratory of Analog and Mixed-Signal VLSI at the University of Macau. At first, Prof. Yong Chen introduces his recent works on oscillators, phase-locked loops, and wireline transmitter circuits. Then Prof. Mo Huang presents his works on power management integrated circuits and systems, focusing on the low-dropout regulator and switching-mode power converter designs. After that, Prof. Minglei Zhang introduces the works from the data converter research group, focusing on the high-speed analog to digital converter (ADC) and low-jitter clock circuit designs. Also, Prof. Ka-Meng Lei presents his recent work on ultra-low-power integrated circuits for chemical/biological assay and Prof. Ka Fai UN introduces his works on the digital transmitter and low-power analog circuits for the artificial neural network.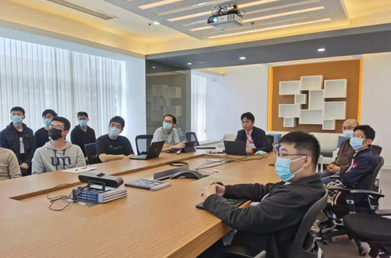 Left Photo: Prof. Mo Huang from the University of Macau presented the lecture

During the second part of the outreach, four professors from Huazhong University of Science and Technology introduces the research activities at the school of Optical and Electronic Information (SOEI). At first, Prof. Qiaoling Tong introduces the general information on the research, teaching, and students of SOEI, as well as his research, works on aerospace high-frequency power systems and integrated power chips. Then Prof. Chun Zhao presents his works on high-performance MEMS Resonant Sensors. After that, Prof. Min Tan introduces his works on the basic and recent advances of circuit-level convergence of electronics and photonics. Finally, Prof. Chao Wang presents his research works on ultra-low-power and intelligent circuits and systems.
After the lectures, the speakers from both sides had warm discussions with the attendees and answered various questions. Also, the attendees exchanged their experiences on student recruitment and development. The outreach activity attracted around 39 students and faculties and provided an excellent opportunity for the CASS members from both universities to learn from each other and explored possible collaborations in the future.


Jun Yin
University of Macau

_______________
2020 IEEE International Seminar on Women in Circuits & Systems (WiCAS) – Post Event Report

The IEEE AP/MTT/EMC/CAS Joint Chapter Islamabad was established in late 2017 at the Research Institute for Microwave and Millimeter-Wave Studies (RIMMS), National University of Sciences and Technology (NUST), Islamabad. It was the Pakistan's first ever joint chapter that deals with RF & microwave activities via IEEE platform to serve the RF community in Pakistan. In particular, the faculty members and students from lesser privileged areas of Pakistan not just took advantage of this knowledge sharing platform but got the opportunity to utilize RF development & characterization facilities for research purposes. The chapter has more than 50 members and has organized more than 60 national & international themed workshops/seminars to-date. The chapter has initiated a webinar series during COVID-19 pandemic and has conducted more than 23 webinars of well-known researchers from around the globe. The local & international RF community has highly appreciated the chapter's initiatives and dedicated efforts. It is pertinent to mention that the societies have bestowed outstanding chapter awards (i.e., MTT in 2019 while APS and EMC in 2020) to IEEE AP/MTT/EMC/CAS Joint Chapter Islamabad. The chapter is also planning to hold Pakistan's first IEEE International Conference on Microwave, Antennas & Circuits (ICMAC) which is expected to be held in 2021 in Islamabad, Pakistan. The chapter is being chaired and co-chaired by Dr. Nosherwan Shoaib and Dr. Hammad M. Cheema from NUST-RIMMS, respectively.  
On 23rd December 2020, the chapter has organized a one-day seminar titled "2020 IEEE International Seminar on Women in Circuits & Systems (WiCAS)" with the financial support of IEEE CAS society under the umbrella of "2020 IEEE CAS Society WiCAS Initiative". The objectives of the event were as follows:
Increase female leaders in local chapters including CASS Chapters
Increase female CASS members
Encourage Pakistani Women to join Engineering
In particular, strong emphasis was made to encourage Pakistani female to join circuits & systems research area since 52% of the total population of Pakistan is female, while only 24% of the total work force is female, out of which only 10% of these females are S.T.E.M. professionals. Therefore, efforts are required at all levels to boost this percentage for the betterment of society at large.
The event was conducted in hybrid mode and made LIVE via Microsoft Teams with a total attendance of 50 participants. The event included both national & international female keynote speakers and panellists including Dr. Rabia Tugce Yazicigil from Boston University, USA, Dr. Wala Salem Mustafa Saadeh from Lahore University of Management Sciences (LUMS), Pakistan, Dr. Seemab Latif, Dr. Sana Qadir and Dr. Mohaira Ahmad from School of Electrical Engineering and Computer Sciences (SEECS), NUST, Pakistan, Ms. Maira Islam from RIMMS, NUST and Ms. Aqeela Saghir from Links Foundation, Italy.
The event started with a welcome note from Dr. Nosherwan Shoaib (chair IEEE AP/MTT/EMC/CAS Joint Chapter Islamabad) followed by RIMMS-NUST introduction presentation by Dr. Muhammad Umar Khan. Dr. Shoaib also gave a detailed presentation on activities of IEEE AP/MTT/EMC/CAS Joint Chapter Islamabad. The first keynote speaker, Dr Wala Saadeh, talked on ultra-low-power systems-on-chip for next-generation wearable biomedical devices. She elaborated very interesting aspects of the subject from simulation modelling to measurements. She also highlighted various related software tools and real-patient test reports. It is heartening to see cutting edge research being done in Pakistan which can potentially support the healthcare sector. In the end, she shared her journey to join Circuits and Systems research field and encouraged female students & faculty members to take lead in RF & Microwave domains for the betterment of the community.
The second keynote speaker, Dr Rabia Yazicigil, shared her vision for future wireless security and spectrum efficiency. She presented an ultra-fast bit-level frequency-hopping scheme for physical-layer security. She discussed latest research directions including secure package-less THz tags and ingestible micro-bio-electronic devices. It was interesting to witness her work on several applications of circuits & systems research field.
A panel discussion on "Women in Higher Education, Research and Entrepreneurship" was also held during the event. Four accomplished women working in the engineering domain including Dr Seemab Latif (HoD Research & Assistant Professor SEECS, NUST), Dr Mohaira Ahmad (Assistant Professor, SEECS, NUST), Dr Sana Qadir (Assistant Professor SEECS, NUST) and Ms Aqeela Saghir (Researcher, Links Foundation, Italy) were invited to motivate women and share their experience. The panellists paid special attention to the importance of women in science and the difference they can make for the betterment of society.
Principal RIMMS, Dr Hammad M. Cheema, concluded the seminar by thanking honourable speakers. He added that having more women in Engineering and specifically circuits and systems, can provide more weight to the unique perspectives, vision and ideas, women can bring with them. This may include empathy, creativity, simplicity and selflessness to name a few. He expressed hope that the seminar participants, especially the young females who are just starting their careers, benefitted immensely hearing from successful role models and got a huge motivational dose to excel further. He appreciated the efforts of RIMMS faculty members and staff for taking the initiative and organising the first-ever seminar on such topic.
Last but not the least, it is important to mention that this seminar would not have been possible without the gracious financial support of the IEEE CAS society. A special thank you to Professor Yoshifumi Nishio who supported and encouraged the chapter to organize this event.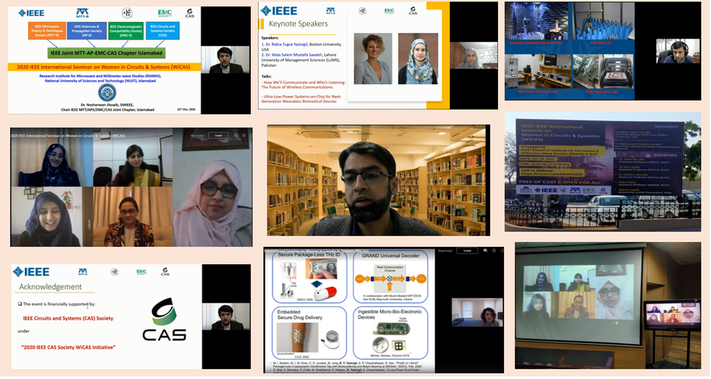 Nosherwan Shoaib and Hammad M. Cheema
Research Institute for Microwave and Millimeter-Wave Studies (RIMMS), National University of Sciences and Technology (NUST), Islamabad, 44000, Pakistan