Post Event Report on IEEE CASS DAY 2022 Malaysia Chapter

Hosting Chapter: Malaysia Chapter 
Organizer committees: 
Mohd Amrallah Mustafa

Fakhrul Zaman Rokhani 

Mohd Nazim Mohtar

Asral Bahari Jambek

Halina Jaafar

Lee Lini

Suhaidi Shafie

Maryam Mohd Isa

Luthffi Idzhar Ismail
Date: 27th July 2022
Venue: Marina Putrajaya, Malaysia
The IEEE Circuits and Systems Society (CASS) Malaysia Chapter has successfully organized the IEEE CAS Day event on 27th July 2022.   We were pleased that 44 participants participated in the event. The participants came from various universities in Malaysia as well as from multiple IEEE Student Branch (SB) Chapters. There are IEEE UPM Student Branch (SB), IEEE UKM SB, IEEE UNITEN SB, IEEE SUSTECH Sudan, Multimedia University, etc.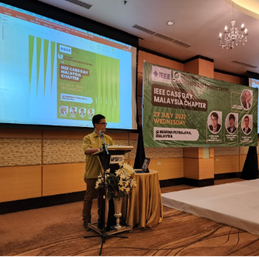 Left Photo: Opening and Introduction of CASS Malaysia Chapter by Dr. Mohd. Amrallah Mustafa
There were seven presentations, four of them given by the CAS Society ExCom and BoG. Malaysia Chapter chair Prof Amrallah gave a welcome speech and presented an update on the chapter's initiative. Prof Nishio shared about the membership benefits while Prof Fakhrul discussed various educational initiatives provided by the Society. In the afternoon, a technical forum moderated by Prof Lini on Leadership in Innovation had the audience engaged with the panelists. The tentative of the event is as below.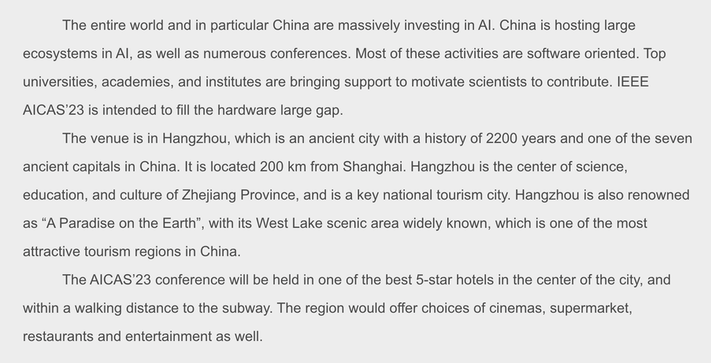 Photo Above: CASS Promotion Session by Professor Amara Amara (Past-President)

Photo Above: The Future of the CAS Society by Professor Myung Hoon Sunwoo (President-elect)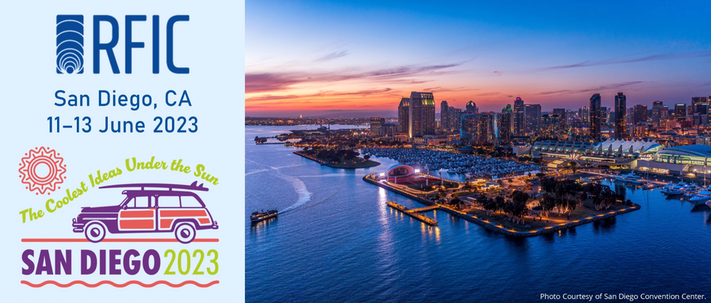 Photo Above: CASS Membership Benefits by Professor Yoshifumi Nishio (VP RAM 2018-2021)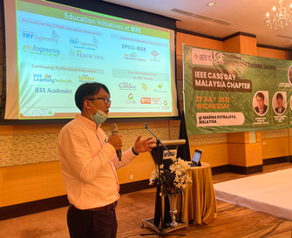 Left Photo: CASS Educational Activities by Assoc. Professor Fakhrul Zaman Rokhani (Chair Education)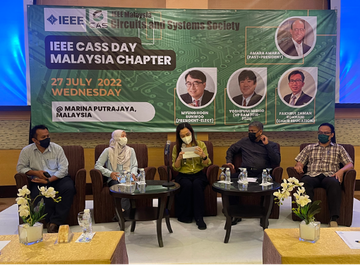 Right Photo: Technical Forum: Leadership in Innovation. Left to Right : Prof. Zainal, Prof. Samsuzana, Prof. Lini, Mr. Parid, Mr. Nazif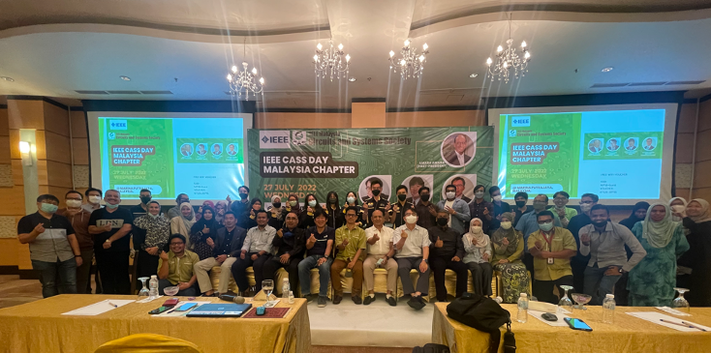 Photo Above: Group Photo. Photo Below: IEEE CAS Committee, Malaysia Chapter 2022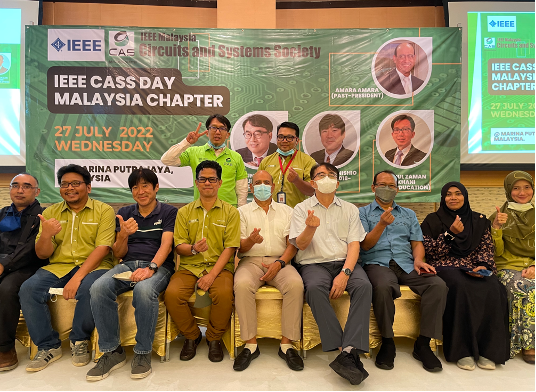 Luthffi Idzhar Ismail, Mohd Amrallah Mustafa,and Mohd Nazim Mohtar
__________
IEEE Circuits and Systems Society (CASS) Forum on Future of Semiconductor Successfully Held in Xiamen

The Institute of Electrical and Electronics Engineers (IEEE) is an international association for electronic and telecommunications engineers, and also the world's largest non-profit technical professional organization. As one of the largest IEEE societies, IEEE Circuits and Systems Society (CASS) has more than 10,000 members around the world. 

On July 15th, 2022, IEEE CASS Forum on Future of Semiconductor was successfully held in the Integrated Circuit Design Industrial Park, Haicang District, Xiamen, China. This forum was sponsored by IEEE CASS, co-organized by the Department of Micro/Nano Electronics of Shanghai Jiao Tong University, National Integrated Circuit Industry-Education Integration Innovation Platform of Xiamen University, School of Electronic Science and Engineering of Xiamen University. More than 70 people with industrial, academic, and other backgrounds attended the forum in person. Nearly 50 graduate students applied for the IEEE student membership on-site. By organizing the IEEE CASS Forum on Future of Semiconductor, IEEE CASS delivers impacts on academia and industry and dedicates intellectual support to the young IC talents.
The forum invited three lecturers and other honored guests from academia, industry and investment area, respectively. The lecturers and guests shared their thoughts on the future of semiconductor, provided profound insights from multiple aspects and dimensions and gave lots of suggestions about career planning to graduate students.

Before the lectures, Prof. Wang Guoxing, the vice president of IEEE CASS, introduced IEEE CASS in details to the audiences. Prof. Wang shared his experience related to IEEE since his school days, introduced related CASS publications, the benefits of student members and the Young Professional Program. He also encouraged graduate students to take every opportunity to attend various IEEE activities and try to build up the connections to the fellows and experts.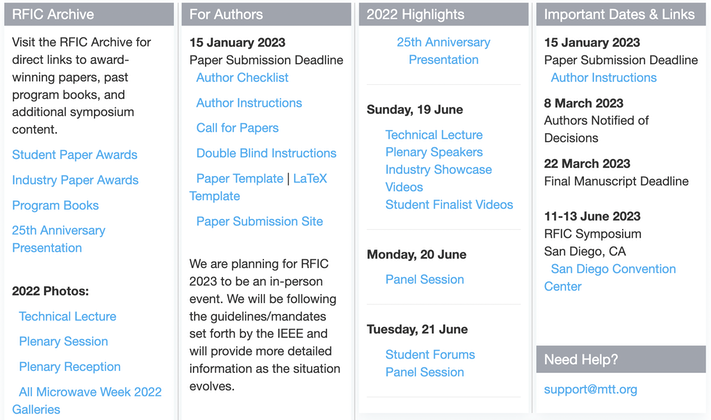 Assistant Prof. Liang Qi, the first guest speaker, gave a detailed and vivid introduction to the characteristics of various types of ADCs, the advantages of hybrid ADCs, special requirements on ADC performance regarding different scenarios and shared his opinions on the ADC development trends in the future.
As the second guest speaker, Dr. Hongbo Zhu, the founder/CTO of ZheGui (Hangzhou) Semiconductor Technology Co., Ltd., shared his scientific research experience over the years with the theme of "The Freedom of the University and the Reliability of the Company from the Perspective of Chips".

Ms. Zhang Yingming, the vice president of Walden International, as the last speaker, introduced the historical development and corporate values of Walden International, its supports on semiconductor startups over the years and her personal outlook on life and values, with the theme of "Value Choices in the Next Three Years".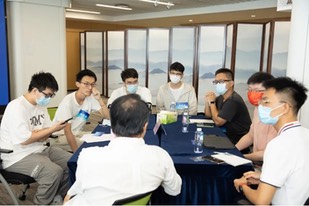 Next, on the second half of the forum, it came to an interaction session. Guests actively interacted with the on-site students on various topics involved start-up companies, chip design innovations and the post-Moore era, etc.
Last year, the IEEE CASS Forum themed "Interdisciplinary Research" was successfully held in Shanghai. This year, it was held in Xiamen, China with the theme of "Future of Semiconductor". We hope such IEEE CASS forum could be consistently held in China next year and delivers more impacts on academia and industry and establishes an on-site platform connecting professionals and young students.

Liang Qi, Shanghai, China (qi.liang@sjtu.edu.cn)