CASS-Wide Webinar Program

The IEEE CAS Society strives to serve our members' different needs and interests. The new CASS-wide webinar program delivers high-quality talks on the field of interest of the circuit and systems community. As part of the society's plan for image enhancement through continuous education, the aim is to:
Feature prominent CASS researchers of multidisciplinary nature.

Connect students and early career professionals with prominent CASS researchers and authors.

Promote and preserve CAS knowledge, and enrich the current educational portfolio of the Society.

Enhance the visibility of the IEEE CAS Society.
The webinar series will feature one lecturer a month. Registration is free for all webinars. If you cannot attend the "live" virtual events, the presentations will be available at the IEEE CASS Resource Center after the event.
 
The webinars will be processed and made available to the community through the CASS Microlearning (CASS MiLe) platform, where interested learners can expand their knowledge and receive credit for reaching proficiency.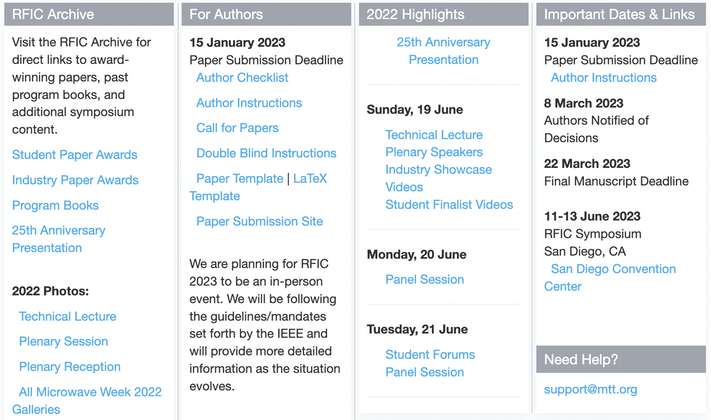 The first talk took place on 12 October 2022 at 9:00 AM EDT (- 4:00 UTC) and featured a talk by Sorin Cotofana titled "Graphene-Based Computing".
Join us for the second talk!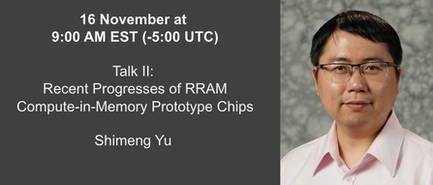 Join us for the second webinar in the CASS-Wide Webinar Program.

This talk will take place on 16 November 2022 at 9:00 AM EST (-5:00 UTC) and features a talk by Shimeng Yu titled "Recent Progresses of RRAM Compute-in-Memory Prototype Chips".

Registration for this series is entirely free and will be limited to the first 1000 registrants per event. If you cannot register, you can also attend the webinar via Facebook Live or access the webinar recording on the IEEE CASS Resource Center.

________________
IEEE CASS Seasonal School on Intelligent Chips: Integrated Sensors and Memristive Computing
The second edition of the IEEE CASS Seasonal School on Intelligence in Chips: Integrated Sensors and Memristive Computing is designed for graduate and doctoral students from the fields of Electrical and Computer Engineering, who have a keen interest in learning more about the latest developments in Memristor Theory and Applications, and dive into Artificial Intelligence, Brain-Inspired Data Storage/Sensing/Computing, and Intelligence in Chips.

A wide range of topics, covering innovations in materials, devices, circuits, and systems, shall be discussed in this Seasonal School. The Seasonal School shall offer a comprehensive overview of this multidisciplinary field of research through 1-hour-long lectures from a large number of prominent scientists.
Invited Speakers
Abu Sebastian (IBM Zhurich)

Alex James (Digital University Kerala)

Shahar Kvatinsky (Israel Institute of Technology)

Rainer Waser (RWTH Aachen University)

Cory Merkel (Rochester Institute of Technology)

Max Di Ventra (University of California San Diego)

Eby Friedman (University of Rochester)

Jason Eshraghian (University of California, Santa Cruz)

Joseph Friedman (The University of Texas at Dallas)

Bernabe Linares-Barranco (Instituto de Microelectrónica de Sevilla)

Stefan Slesazeck (NaMLab gGmbH)

András Horváth (Pazmany Peter Catholic University)

Helen Li (Duke University)

Qiangfei Xia (UMass Amherst)

Udayan Ganguly (IIT Bombay)

Daniele Ielmini (Politecnico di Milano)

Stephan Menzel (Forschungszentrum Juelich)

Tony Kenyon (University College London)

Kaushik Roy (Purdue University)

Ronald Tetzlaff (Technische Universität Dresden)

Fernando Corinto (Politecnico di Torino)

Harish Bhaskaran (University of Oxford)

Vishal Saxena (University of Delaware)

Spiros Nikolaidis (Aristotle University of Thessaloniki)

Stanley Williams (Texas A&M University)

Ilia Valov (RWTH-Aachen)

Arindam Basu (City University of Hong Kong)

Mladen Berekovic (University of Lübeck)

Deepu John (University College Dublin)

Georgios Ch. Sirakoulis (Democritus University of Thrace)

Alon Ascoli (Technische Universität Dresden)

Bhaskar Choubey (Siegen University)

Paul Chao (National Chiao Tung University)

Heidemarie Schmidt (Technische Universität Chemnitz)

Gianaurelio Cuniberti (TU Dresden)

Rashmi Jha (University of Cincinnati).
School Format
The Seasonal School will be held in a virtual format. The registration link to the Seasonal School can be obtained by visiting the Seasonal School website.

Program Chairs
Alex James - General Chair
Alon Ascoli - Co-chair
Bhaskar Choubey - Co-chair
Organizing Institutions